Want to take a class?  Sign up for our Handmade Holidays classes on November 11.
Here are all the classes we're slated to offer this year:
We'll be turning two squares of fabric into an origami-inspired drawstring bag to hold dice, knitting projects, etc. *** Special Classes on November 11!  Make reusable gift bags and a quick and easy gift – the Waiting Room Tote bag holds coloring books/crayons or puzzle books and pens at our classes for the holidays!***  We ave recently taught it at Whosyercon and GenCon, and The Indianapolis Trade School.  See examples of the work our students are doing
here
.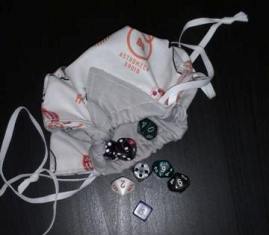 Learn the fundamentals of pattern drafting with a custom-drafted pattern for a Victorian corset. We plan to offer this class again at GenCon.
Learn what to look for in a sewing machine and how to care for it after you take the plunge. Next session: October 14. Want to bring this class to your event? Email aimee@sewingforgeeks.com
Learn how to use patterns to speed your sewing projects. We'll dissect some patterns, including commercial offerings, European/Japanese magazine patterns, and independent patterns. Learn about pattern symbols, measuring correctly, and tracing tools and methods. We'll also cover how to make simple alterations to a flat pattern to get a better fit, including changing length, modifying necklines, and blending sizes. We teach this class at Gencon, and will be offering it locally on October 14.
Sewing for Geeks is also the name of a series of classes.
Aimee started teaching classes at GenCon on the topic of corsetry, sewing, and sewing machines and teamed up with Alice The Fabric Ninja  in 2014 to be able to accommodate more students and different skill levels.  Aimee now teaches locally by request, and occasionally offers the classes at SCA events, too.  Topics include:
Care and feeding of your sewing machine
Basic hand-sewing
Intermediate Sewing (choosing fabrics, using commercial patterns)
Advanced Sewing (pattern drafting, corsetry)
Why should I trust you guys to teach me how to sew?

Aimee Rose Formo has been sewing since she barely had any hand-eye coordination.  She learned to sew from the same grandmother whose recipes involved measurements like, "about a handful or two" and "just keep pouring it in until it looks right," and while she's successfully taught many beginner sewing courses formally and informally, she's never taken formal stitchery classes herself.  When she stitches, she usually foregoes anything that adds time to the process, including pinning–and she eyeballs most seam allowances (ironing, however, is never optional).  Aimee's specialty/happy place is making small stuff, for dolls, babies, and children.  She prefers to buy commercial patterns, work with period patterns, or drape directly onto a dress form rather than bother with the math to create her own.  If you like to cook without a cookbook, you'll love to sew without too many rules, too!  Contact Aimee at aimee@sewingforgeeks.com.
Alice Smith-Goeke, The Fabric Ninja, has been sewing since she was a child, taught by her mother, a quilter and seamstress.  She started with Halloween costumes which was a perfect gateway to historical reproductions and character reproductions. Alice has most of an Apparel and Textile Design degree from Michigan State University and has worked on a theater costume crew.    Alice specializes in corsetry and pattern drafting.  She sews & drafts commission items for individuals and local museums and teaches sewing classes.  She is also involved in her local SCA group and teaches historic dancing.  You can contact her at theninja@fabricninja.com
Questions or comments? Email us!