About Sewing for Geeks
Sewing for Geeks has started to become bigger than just sewing, so this blog covers my hobby/tiny home-based business crafting, but sometimes takes detours into the world of freezer cooking, toymaking, or urban homesteading, because those things help me keep myself and my family healthy while also making more time to do the things I love.
Sometimes, when I can bear to give them up, I make my creations available, and I do take occasional commissioned work–my specialties are doll clothing for dolls from dollhouse miniatures to 1/3 scale BJD.
I partner with Alice, the Fabric Ninja, to teach basic-advanced sewing skills so that others can make stuff, too.  You can find us teaching at geeky conventions or around the Indy area.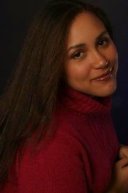 Who's behind Sewing for Geeks?

My name is Aimee Rose Formo (though you may know me by my SCAdian name, Ysabel de la Zarza) and I'm a stitch-a-holic.

I've been making stuff since my grandmother taught me how to sew on a button at the age of 4. I have been accused of being an overachiever.  My current obsessions are sewing, knitting, 15th century Spanish clothing, Real Food, and Montessori homeschooling (even though I'm a working mom).

When I'm not blogging to keep myself accountable, I'm a wife and mother, and work in international education.